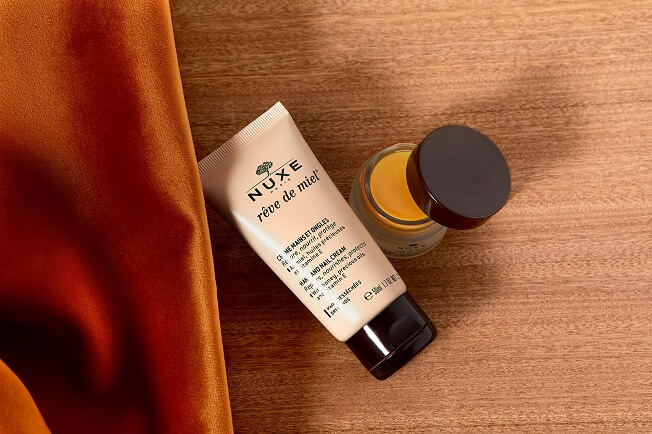 About Rêve de Miel®
A gift from nature, reinvented by NUXE.
More than 20 years ago, Laboratoire NUXE created the Rêve de Miel® skincare range. Its special ingredient: honey, a beauty treasure with comforting properties, which is ideal for dry skin!
The Rêve de Miel® skincare range has been specially designed to provide ideal comfort to dry and very dry skin thanks to the nourishing action* of precious botanical oils and the softening effect of Honey.
The generosity of Honey in combination with these precious botanical oils forms the core of 7 effective and ultra-comforting face and body formulas for dry and sensitive skin.
Rêve de Miel® is also NUXE's inimitable sensory signature, with velvety, melting, rich and smooth textures and delicious scents to cloak the skin in comfort.
Proven results**:

Skin is intensely nourished: 100%
Skin's comfort is restored: 91%
SHOP THE RANGE
*Except for the Face and Body Ultra-Rich Cleansing Gel and the Rêve de Miel® Face Cleansing and Make-up Removing Gel®
**For the Melting Honey Body Oil Balm : Use test conducted under dermatological supervision on 22 women with dry to very dry and sensitive skin on their face body for a period of 28 days. % of volunteers who agreed with the claim immediately after application.