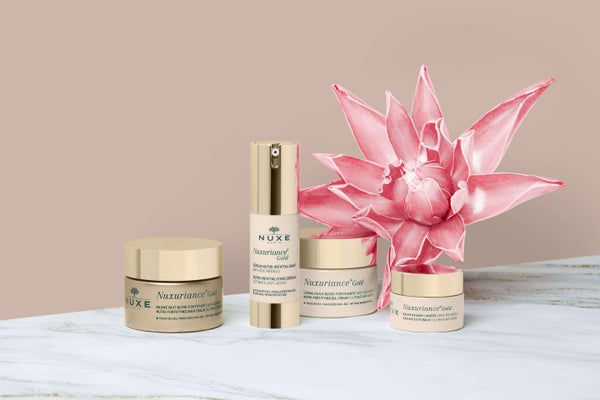 About Nuxuriance® Gold
Nuxuriance® Gold delivers supreme anti-aging results for dry, mature, and fragile skin. With 4 Patents (FR), Nuxuriance® Gold fights all visible signs of aging including; lack of nutrition, loss of density and radiance, fine lines and wrinkles. Combining the potency of botanical ingredients with the innovation of the NUXE Laboratoire, Nuxuriance® Gold blends renewing Saffron and Bougainvillea Bi-Floral Cells®, with a Jiaogulan and Rockrose Nutri-Restorative Complex and the Porcelain Rose Oleoactive® to brighten the complexion.
Nuxuriance® Gold has been created with formulas containing more than 92% natural ingredients and soothing textures for ideal comfort for tired skin. Illuminate, revitalise and smooth the skin with the inimitable Nuxuriance® Gold collection. Night after night, your skin will grow stronger and more resistant to damage and the signs of aging.
The Nuxuriance® Gold collection delivers absolute anti-aging power to your daily skincare routine. Skin will appear brighter, tighter, and more youthful with Nuxuriance® Gold products, that have been formulated with emotional benefits in mind.
Shop The Range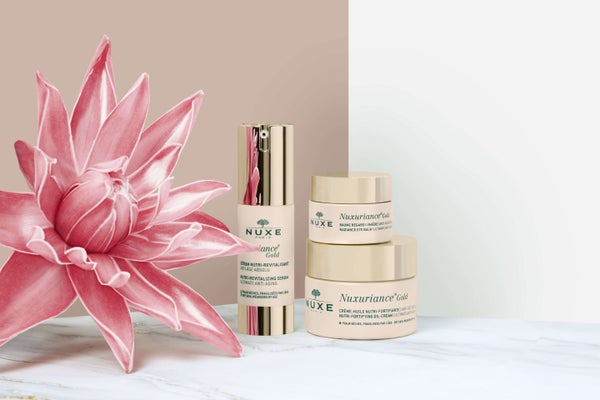 Shop Nuxuriance® Gold
Incorporate the Nuxuriance® Gold Radiance Eye Balm into your daily skincare routine to bring your eye area back to life. The Nuxuriance® Gold Nutri-Replenishing Serum will renew the skin, day after day. Your skin will be fortified and illuminated, beautiful and glowing with radiance. The absolute anti-aging power of the Nutri-Replenishing Oil Cream will help the skin appear firmer and smoother. Wake up to more youthful-looking skin with the Nutri-Replenishing Night Balm.
Proven Results
Owing to a study conducted by Neuroscience researchers, after 28 days of using the Nuxuriance® Gold routine, it was noted that women had a more positive self-image, they felt better in themselves physically and gained more confidence. Prepare for a new incredible sensory experience! Women felt their skin was:
Re-plumped, in 88% of cases (1)
Firmer, in 88% of cases (1)
Fortified, in 84% of cases (1)
SHOP THE RANGE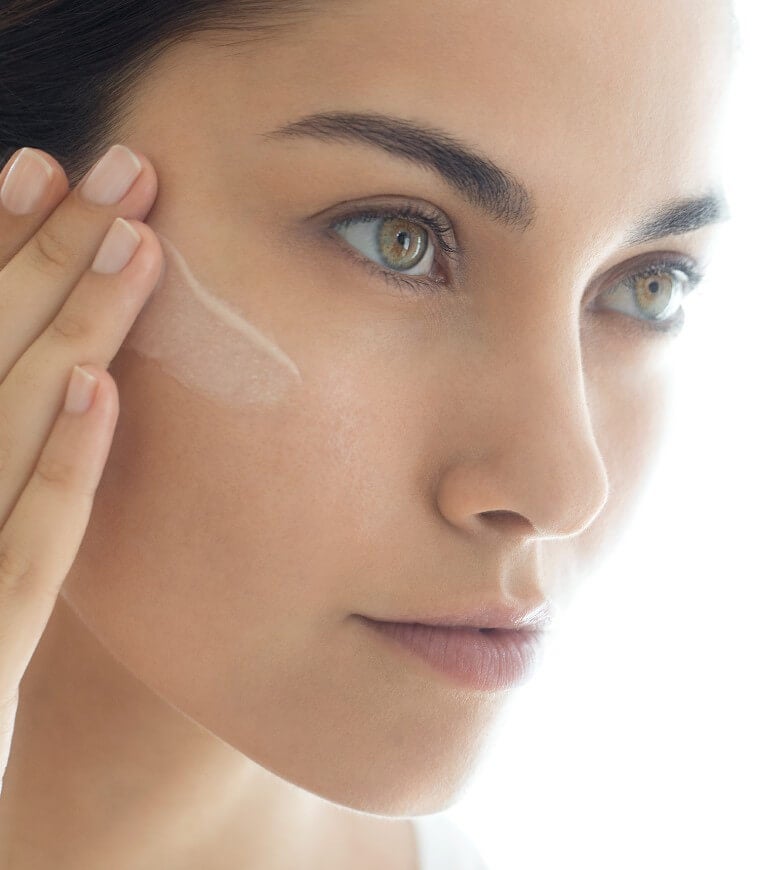 Build your own routine.
Find out which products are right for you based on your skin type.
Save 20% when you buy 3+ products with code: SAVE20
(1) Use test - 32 women. Satisfaction % after 28 days of using Nutri-Fortifying Oil-Cream.