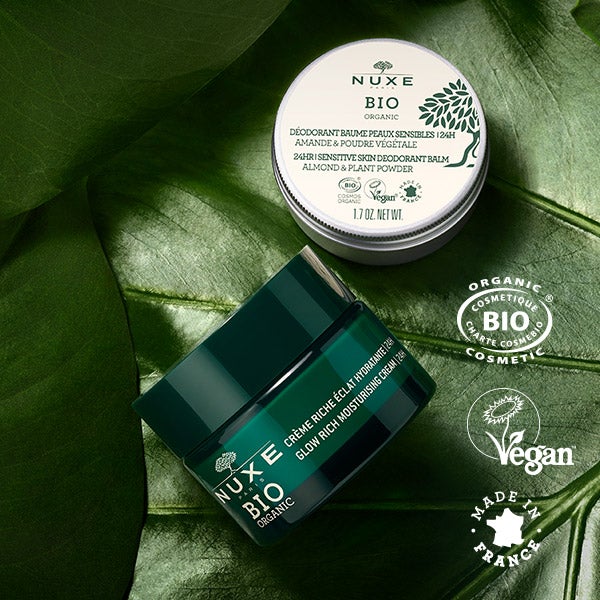 NUXE BIO Organic
ORGANIC BLISS
NUXE BIO ORGANIC COLLECTION
Added to your cart
Sorry, there seems to have been an error. Please try again.
Subtotal: ( items in your cart)
Quick Buy
Sorry, there seems to have been an error. Please try again.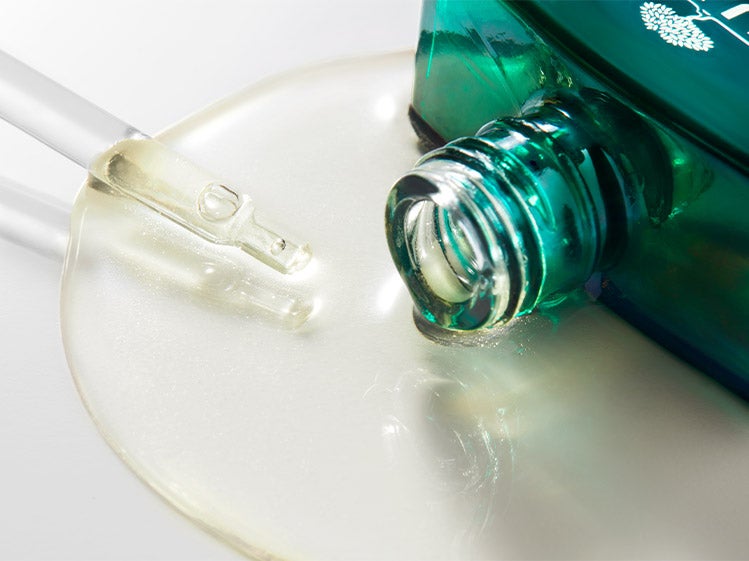 Nature's potential revealed by green technologies
For this range of certified organic cosmetics, NUXE Research has selected key natural-origin ingredients, with a particular focus on those extracted with green technologies. Certified organic by Ecocert, the formulas contain an average of 99% natural-origin ingredients and an average of 63% cosmetic ingredients from organic farming, in comparison with the required minimum of 20% certified organic ingredients out of the total required ingredients depending on the product category and COSMOS charter. NUXE BIO Organic skincare products are produced in France in Ecocert-compliant factories.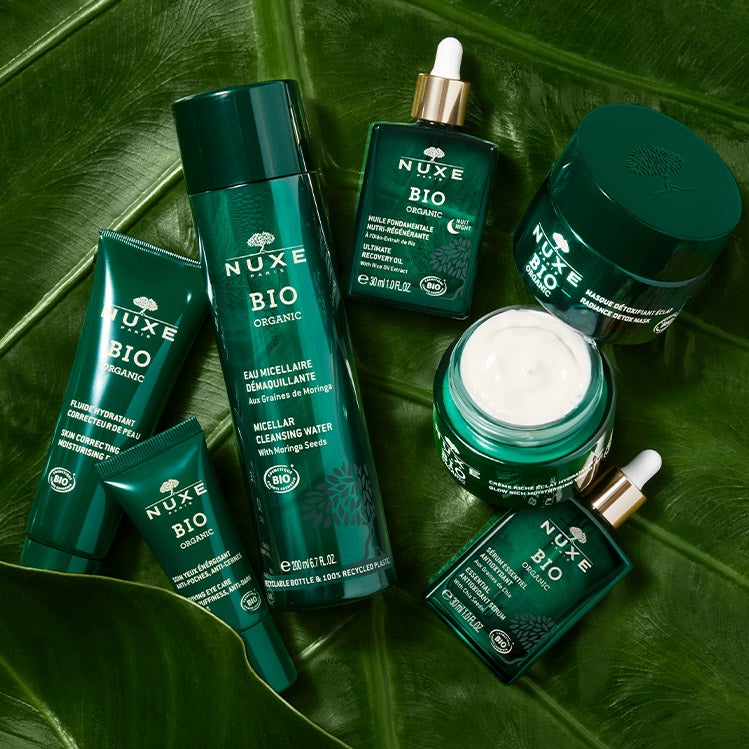 Effectiveness and pleasure with each application
NUXE BIO Organic formulas effectively meet our skin's essential needs with proven visible results, for example:
• Smoother skin for 86% of testers Essential Antioxidant Serum
• Skin appears repaired for 84% of testers Ultimate Night Recovery Oil
• Smoother eye contour area for 100% of testers Anti-Puffiness, Anti-Dark Circles Reviving Eye Care
• 24-hour moisturization Glow Rich Moisturising Cream | 24hr
These vegan formulas (approved by The Vegan Society and not tested on animals) offer an uncompromising approach to pleasure, with NUXE sensoriality! The scents with soothing notes of Neroli are unique compositions, 100% natural origin for each of the formulas. The textures are also real galenic achievements that feel sensational and melt instantly into the skin.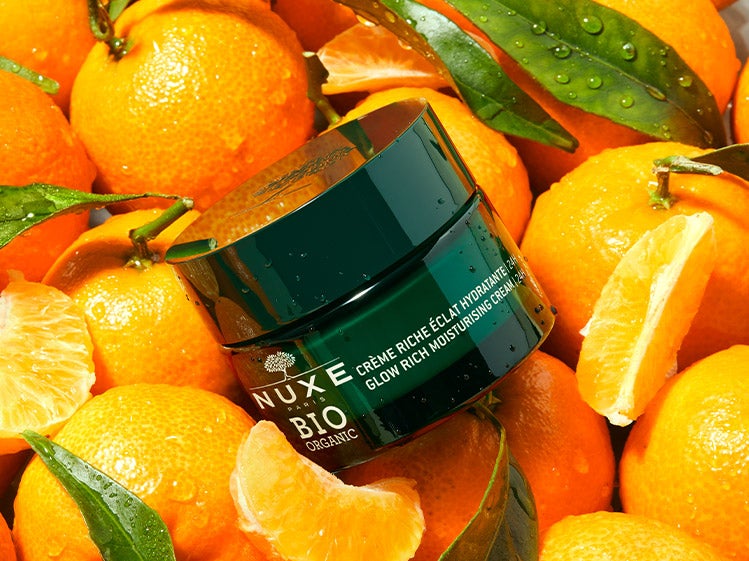 Key ingredients
For each product, NUXE Research has selected a key botanical-origin ingredient, focusing on local sourcing, sustainable supply networks and extraction and processing methods based on green technologies to reduce the environmental footprint. The selected technologies use no chemical solvents, consume less energy and generate little polluting waste.

Innovation: DNA Research
Our key ingredients are derived from plants with genetic traceability monitored by botanical DNA analyses in collaboration with the DNA laboratory Gensee. Find out more about this with Nadine Leconte, Research & Development Director at NUXE.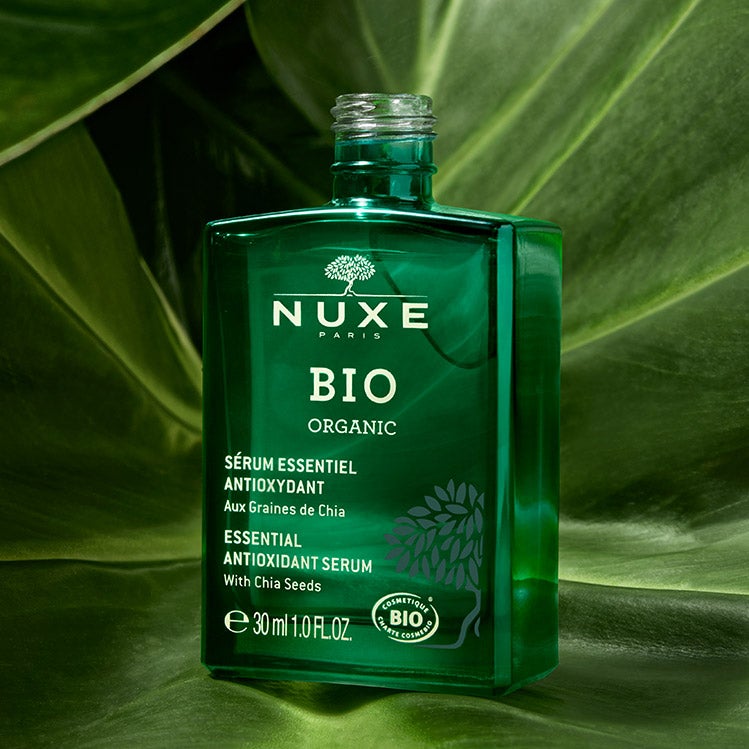 Eco-designed packaging
NUXE Bio Organic packaging incorporates recycled and recyclable materials wherever possible.
Recyclable glass packaging

Where possible, we have opted for glass, an infinitely recyclable material. We have incorporated recycled glass into our packaging: up to 90% in our 50 ml jars.
Recyclable plastic packaging
Our plastic packs are recyclable and incorporate recycled plastic. For example, the Micellar Cleansing Water has a recyclable plastic bottle made from 100% recycled plastic.
Recyclable aluminium packaging
Our deodorant balms are packaged in jars made from aluminium, a lightweight and recyclable material.
Recyclable cardboard cartons
Our cartons are made from FSC-certified paper from sustainably managed forests.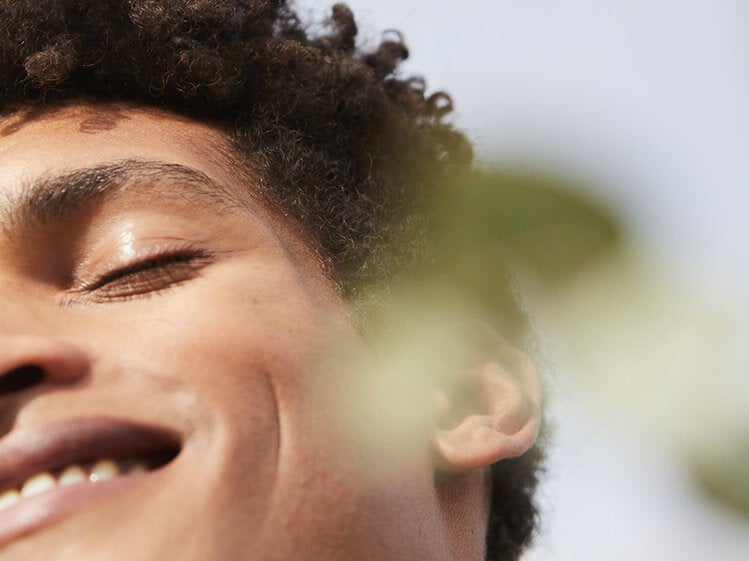 My ORGANIC face care routine
Step 1: In the morning and evening, I remove my make-up and cleanse my face with either the Micellar Cleansing Water or the Botanical Cleansing Oil. In the morning, I can also wash my face with the Invigorating Ultra-Rich Soap or the Gentle Ultra-Rich Soap.
Step 2: In the morning, I protect my skin from premature ageing with the Essential Antioxidant Serum. In the evening, I nourish and repair my skin with the Ultimate Recovery Oil.
Step 3: In the morning and evening, I smooth signs of fatigue with the Anti-Puffiness, Anti-Dark Circles Reviving Eye Care.
Step 4: In the morning, I moisturise with the appropriate day cream, the Correcting Moisturising Fluid for normal to combination skin or the Glow Rich Moisturising Cream | 24hr for normal to dry skin.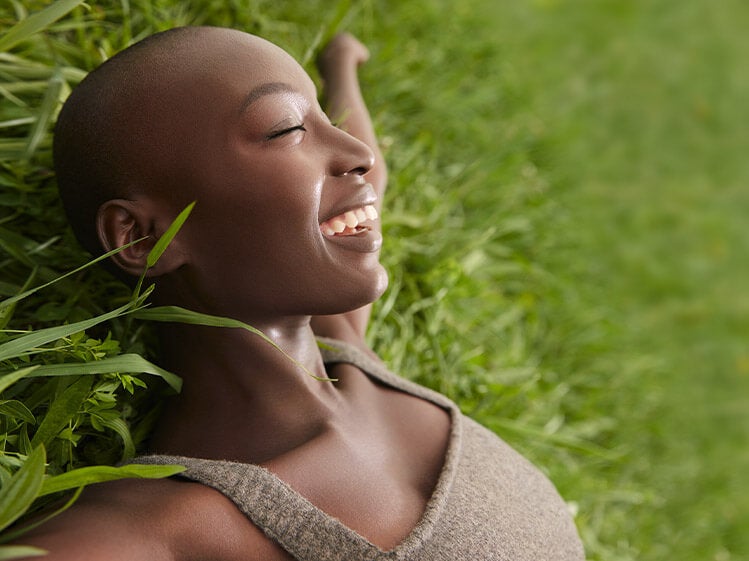 About NUXE Organic
⁽¹⁾ Consumer test – 63 volunteers - satisfaction % after 28 days.
⁽²⁾ Usage test – 31 volunteers - satisfaction % after 28 days.
⁽³⁾ Usage test – 22 volunteers - satisfaction % after 21 days.
⁽⁴⁾ Instrumental test.
⁽⁵⁾ In compliance with European regulations.
⁽⁶⁾ Except for the Essential Antioxidant Serum, Radiance Detox Mask and Reviving Eye Care.
Bio Organic: certified organic.
About the NUXE BIO Organic range
The NUXE BIO Organic line, certified organic cosmetic brand, invites you to enter the certified organic beauty products era with no compromises: powerful, sensorial and committed. Discover certified organic and vegan skincare concentrating all of nature's benefits, thanks to organic ingredients with boosted potential thanks to green technologies. Delicious textures, with a 100% natural-origin Neroli scent, which melt into the skin, creating a sense of pleasure to which NUXE holds the secret. The range of French certified organic cosmetics consists of 13 products which are suitable for a complete routine: certified organic micellar water, certified organic shower oil, certified organic moisturizing cream, certified organic serum, certified organic moisturizing fluid, our range includes a wide selection that will allow you to find the product which best meets your needs (sensitive, dry, combination to oily skin). Take care of your body with NUXE BIO Organic solid products: cleanse with NUXE BIO Organic certified organic solid ultra-rich soap, then apply certified organic solid deodorant, for soft skin. We offer certified organic day creams and certified organic night creams to pamper your skin throughout the day. The NUXE BIO Organic collection is suitable for both men and women. The life cycle of Made in France products is based on a responsible approach extending from the formulas to the packaging for a reduced impact on the planet.