Saffron and Bougainvillea Bi-floral Cells®
Patented* technology with renewing power.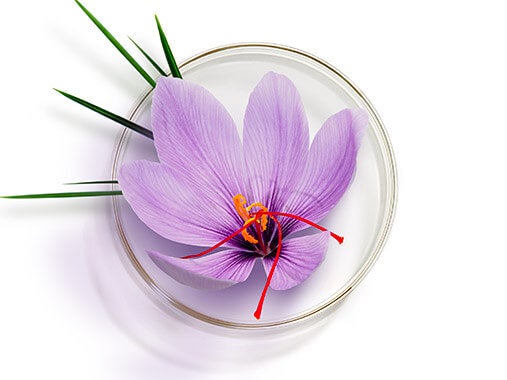 Their traditional properties
Bougainvillea's blossoming period extends from May to September and it is used mainly as an ornamental plant.

Saffron has been used for thousands of years as a pigment for dyes, a calming and sedating medicinal herb, and in the formulation of cosmetic products.

NUXE expertise
NUXE has chosen to encapsulate active molecules from Saffron Flower, with proven regenerative properties, botanical cells derived from Bougainvillea leaves, having a similar membrane to skin lipids, guaranteeing excellent compatibility with the skin. Resulting from the blend of two floral active ingredients with beneficial anti-ageing properties, Bi-Floral Cells® are a real technological feat: these new-generation botanical have a continuous, targeted action over a 12-hour period and contribute to skin renewal by stimulating the generation of new major cells.

An environmentally-friendly active ingredient
NUXE has developed 100% natural-origin Bi-Floral Cells® using a novel, environmentally-friendly process, without solvents or chemicals, which has been patented (FR). It uses ""pure"" Bougainvillea Cells that have not been subjected to atmospheric pollution or exposed to pesticides or nitrates. The cultivation method does not destroy the whole plant and thus also contributes to protecting biodiversity.

Related products
Saffron and Bougainvillea Bi-Floral Cells® are found in the Nuxuriance® Ultra and Nuxuriance® Gold ranges.